I have started compiling an list of climate variables that are crucial for observing a period of global cooling..
ONGOING POSTS IN COMMENTS SECTION
Follow comments for upcoming additions
Lets start with
THE SUN
A good article here outlining how our SUN is behaving uo to JULY 2013
Solar Cycle #24: On Track to be the Weakest in 100 Years
by David Dickinson on July 29, 2013
"Not only is this the smallest cycle we've seen in the space age, it's the smallest cycle in 100 years," NASA/Marshall Space Flight Center research scientist David Hathaway said during a recent press teleconference conducted by the Marshall Space Flight Center.
Read more: http://www.universetoday.com/103803/solar-cycle-24-on-track-to-be-the-weakest-in-100-years/#ixzz2az9IfPvY
Also of interest from this article
So far, several theories have been put forth as to why our tempestuous star seems to be straying from its usual self. Along with the standard 11-year cycle, it's thought that there may be a longer, 100 year trend of activity and subsidence known as the Gleissberg Cycle.
GLEISSBURG CYCLE
…. A good reference here..
http://solarphysics.livingreviews.org/open?pubNo=lrsp-2010-1&page=articlesu25.html
From that link above l have posted the cycle below
Notice the Gleissburg cycle is on a downward phase currently and has been trending that way since Solar cycle 20 which peaked maximum around close to 1970.
By the looks of this diagram below we might expect the Gleissburg cycle to bottom out at around roughly 2014..
Global temperatures have risen while the Gleissburg cycle has been trending down..??
Before discounting solar here. One much consider the lag time associated with these larger cycles.
Global cooling commenced in 2006.
If lag was an issue here. Then the peak of Gleissburg cycle in ~1970 to the point at which global temperatures have started to fall in 2006 is
2006 – 1970 = 36yrs?
This global downturn may be amplified by the next downward phase of the 11 yr solar cycle from 2014 to about 2020.
Could be an interesting time to study the sun and earths climate

—————————————————————
—————————————————————
AN EXPECTED PERIOD OF NEGATIVE ARCTIC OSCILLATION ANOMALY
is considered an indicator of a likely cooler period for some parts of the Northern Hemisphere
A Diagram and explanation from NSIDC ………..http://nsidc.org/showing how a positive and negative AO index affects the Northern hemisphere atmospheric circulation patterns and ultimately the weather patterns
Some links and resources posted below to watch this index in the years ahead. I would imagine we would expect to see this index to be more frequently in the negative range for global cooling to occur
"The Arctic Oscillation refers to opposing atmospheric pressure patterns in northern middle and high latitudes.
The oscillation exhibits a "negative phase" with relatively high pressure over the polar region and low pressure at midlatitudes (about 45 degrees North), and a "positive phase" in which the pattern is reversed.
In the positive phase, higher pressure at midlatitudes drives ocean storms farther north, and changes in the circulation pattern bring wetter weather to Alaska, Scotland and Scandinavia, as well as drier conditions to the western United States and the Mediterranean.
In the positive phase, frigid winter air does not extend as far into the middle of North America as it would during the negative phase of the oscillation. This keeps much of the United States east of the Rocky Mountains warmer than normal, but leaves Greenland and Newfoundland colder than usual. Weather patterns in the negative phase are in general "opposite" to those of the positive phase
Over most of the past century, the Arctic Oscillation alternated between its positive and negative phases. Starting in the 1970s, however, the oscillation has tended to stay in the positive phase, causing lower than normal arctic air pressure and higher than normal temperatures in much of the United States and northern Eurasia."
TIME SERIES
————————–
1950 — to this current month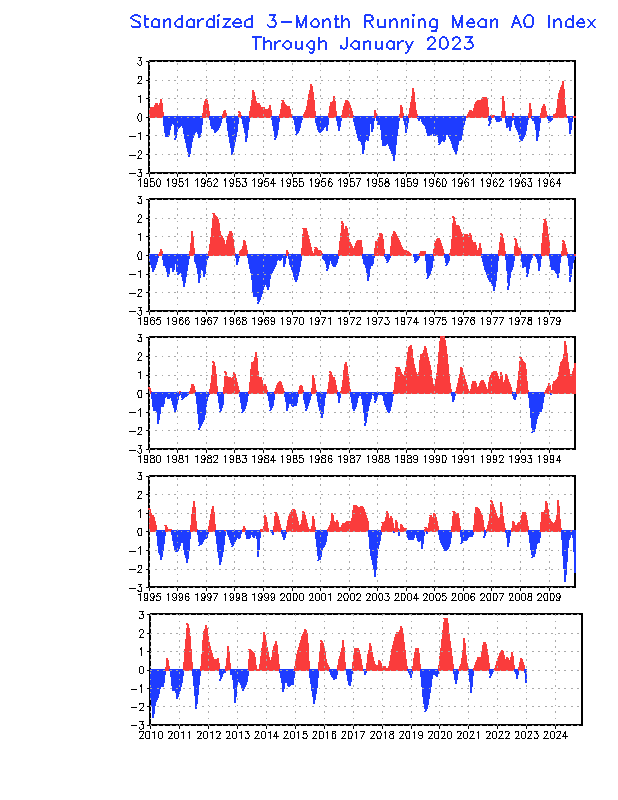 http://www.cpc.ncep.noaa.gov/products/precip/CWlink/daily_ao_index/month_ao_index.shtml
CURRENT DAILY INDEX
———————————————
NOAA site
http://www.cpc.ncep.noaa.gov/products/precip/CWlink/daily_ao_index/ao_index.html
GRAPH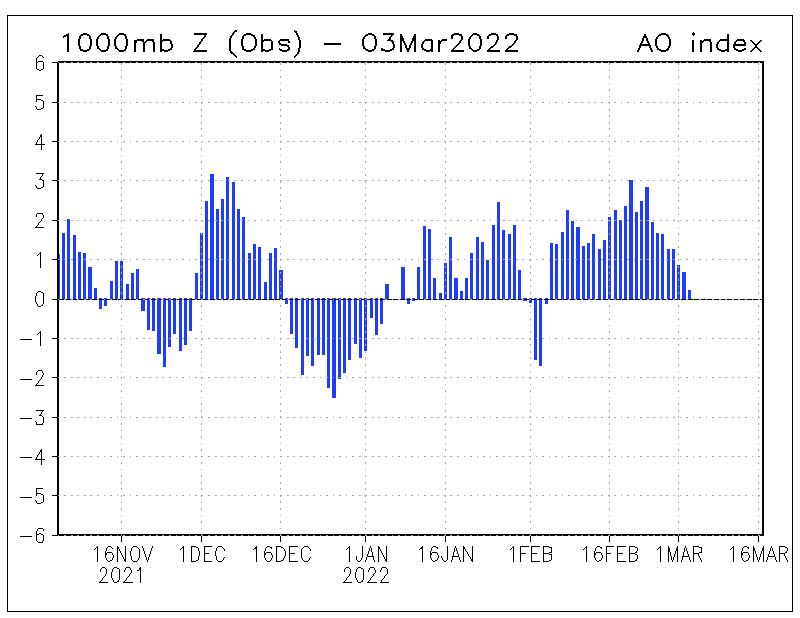 MONTHLY VALUES … 1955 until THIS MONTH
—————————————————————-
FURTHER BACK.. RECONSTRUCTIONS..1658 – 1900
Luterbacher et al …..2002. Extending North Atlantic Oscillation
Reconstructions Back to 1500.
and
from December 1900 to July 2001
are derived from Trenberth and Paolino (1980)
Not sure how reliable this long term reconstruction of the AO is here
It goes back to 1658 to 2001 and gives monthly anomalies
I am always wary of 'reconstructions'
but here it is
ftp://ftp.ncdc.noaa.gov/pub/data/paleo/historical/north_atlantic/nao_mon.txt
—————————————————————————————————-