Click on the title to load all further entries at the base of this page
—————————————————————————————————————-
Records of past and present low altitude snow events below 600m , as l come across them
—————————————————————————————————————–
TASMANIA 1st August 2014
An extreme cold pool with thickness down to ~524 brought low level snow to Tasmania
Waratah at 600m
posted by'snowies'
"Most of the roads affected are in the west, generally 600m asl and above. Reports of slushy snow on the road at the Fern Tree Tavern (450m)"


about Waratah in the Nth of Tasmania
http://en.wikipedia.org/wiki/Waratah,_Tasmania
—————
Some snow reported at
Collinsvale (350m) near Hobart
Discussed here
http://forum.weatherzone.com.au/ubbthreads.php/topics/1271812/Re_What_s_happening_in_Tassie#Post1271812
——————
Gallery of pictures from the Mercury newspaper of the wild and wet weather
http://www.themercury.com.au/news/tasmania/photos-fnj4f7k1-1227009106102?page=3
MT WELLINGTON ( 1271m)
http://en.wikipedia.org/wiki/Mount_Wellington_(Tasmania)
"The snow-capped Wellington Range, as seen from the banks of the Huon River, at Franklin. Picture: Kim Eiszele"
1st August 2014


—————–
31st JULY and 1st AUGUST 2014
VICTORIA
Thanks to KEN KATO for the sat pic'mage and here is where the event is discussed
"Today's satellite imagery from NASA's Terra and Aqua satellites looked truly spectacular"

Mt MACEDON 870m
"Nice 1cm snow cover here this morning. Down to -1 earlier now it's -0.4C
…Just had another 20 mins of heavy wind blown snow, the temp dipped back below zero.
This is the coldest day I've seen here in the 11 years that I've been coming up to the mountain.
next day
"A Facebook friend just posted a pic of nice snow at or near Portland . It looks good .
We still have a full cover after a very cold night (-2.4C) it still below zero now. I've not seen it like this for years. It has been less than 1C for 40 hours now.
A fantastic event for us here, for a change !
3rd Aug 2014
"Still snow on the ground here this morning. A severe frost as well. It's -3.4C"
4th August 2014
"Still snow on the ground here, if we keep getting frosts it will sit there in the shade for days.
-2C this morning and -6 again at Trentham."
I've got pics on Facebook it's Chris Williams Mt Macedon".. by 'avalan'
http://forum.weatherzone.com.au/ubbthreads.php/topics/1272165/6
———————–
"It also seems that Portland (NSW) indeed had some of the better clouds come over. smile Reports of 3 – 4 cm in parts" by 'davem'
———————————————-
aussiestormfreak' says"I've heard reports on Facebook of snowfalls in
Lorne and in the Otway Ranges
"
tempest' says…"My brother texted to me a photo he has just taken above
Lorne – 250m above sea level blanket of snow on the ground!"
—————–
"Snowing heavily and settling here in
Ballarat
".. says 'newbury1'
Excellent photos and video from Ballarat here
http://www.news.com.au/travel/travel-ideas/snow-falls-in-ballarat-and-locals-wander-around-in-shorts-this-is-australias-toughest-city/story-e6frfqdr-1227010148241
St Patricks college Ballarat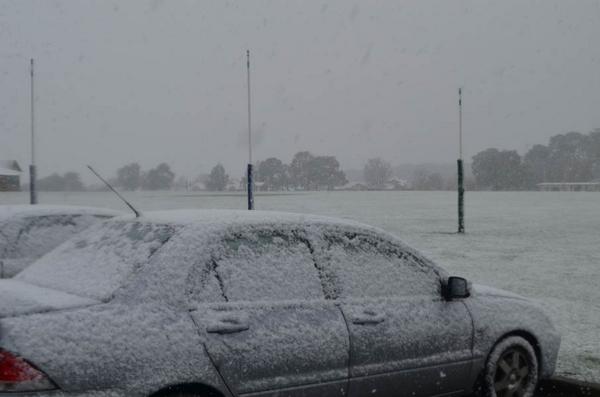 ————————————
My neighbour told me snow was reported in Inverloch?
———————————–
Report from Katoomba
by 'IPEX'
http://forum.weatherzone.com.au/ubbthreads.php/topics/1272243/Re_Snow_31_July_2_Aug#Post1272243
"Very fortunate to be in Katoomba over the weekend and experience quite a good snowfall during dinner at the Savoy in Katoomba St on Friday night. About halfway through the meal there was a sudden murmur of delight and excitement in the restaurant, and I looked up and saw it was snowing outside. Quite a few people (myself included) went outside to experience the flakes close up. It eased up within a few minutes but settled well on the cars in that short time.
Then 30-40 minutes later (wasn't really watching the clock) it started snowing again – this time much harder and for longer. We were leaving the restaurant at this time and walking up to the Carrington, and were quite impressed with the downdrafts and amount of snow falling. This time, it was sticking to the ground and on plants, not just cars, and for a time, it was quite blizzard-like, with the trees in Carrington Park bending and swaying in the wind and snow blowing everywhere. smile Lots of snow on the ground the next morning (Hinkler Park on Warialda/Katoomba Street had impress snow-drifts – for some reason, there seemed to be more snow there than anywhere else) and patches of snow persisted in the shade all through Saturday. On Saturday night, there was still snow in the backyard at the B&B we were staying in!
—————
QUEENSTOWN in the sth island..For this event
A report from DaveM
"Out of interest, I saw photos of this latest event for Queenstown and a number of cm's of snow all over the main street etc.
Fair effort at about 140 odd metres elevation!!
http://forum.weatherzone.com.au/ubbthreads.php/topics/1272370/Re_Snow_31_July_2_Aug#Post1272370
—————–