CLICK ON THE TITLE TO LOAD ALL FURTHER ENTRIES AT THE BASE OF THIS PAGE
SAM ( southern annular mode) Also referred to as the Antarctic Oscillation ( AAO )
TIME SERIES
The SAM was trending positive from 1965 to 1999
SOME LINKS AND RESOURCES TO UNDERSTANDING THE SOUTHERN ANNULAR MODE
I will add to this list in the future
Feel free to post a comment on any information and links on the SAM.
TIME SERIES
http://www.cpc.ncep.noaa.gov/products/precip/CWlink/daily_ao_index/aao/month_aao_index.shtml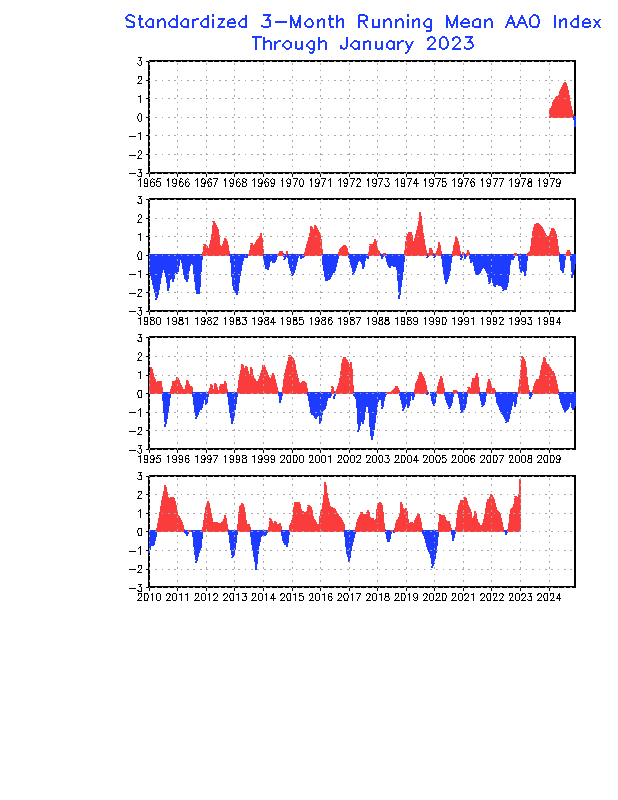 Of particular interest in the graph below …!!
is the hockey stick curve of positive SAM in the winter season data.
Since 2007/2008 the SAM has climbed 'exponentially toward 2010.!!!
Notice this extreme positive phase is a seasonal anomaly for the SH winter period of JUNE/JULY/AUGUST.
In fact the summer and annual anomaly has levelled off or maybe even declined since 1998
1998 is considered as the maximum of the modern warm period by some cycle researchers.. Will the winter SAM start dipping negative as well?
Intuitively you would suspect a persistent negative SAM trend would be needed for a period of global cooling..?
…………The SAM index. SEASONAL..
Top.(.SUMMER. DJF 1947-2010)
Middle.( WINTER JJA ..1948-2010)
Bottom. (ANNUAL 1948-2010)
The yellow lines indicate 7-year Gaussian-type filtered values.

RESOURCE LINK from
http://www.lasg.ac.cn/
Is There a Relationship between the SAM and Southwest Western …
http://www.lasg.ac.cn/UpLoadFiles/File/papers/2010/2010_JCLI_Feng_Li_Li.pdf
———————————————————————–
CURRENT SAM/AAO ANOMALY
http://www.cpc.ncep.noaa.gov/products/precip/CWlink/ENSO/verf/new.aao.shtml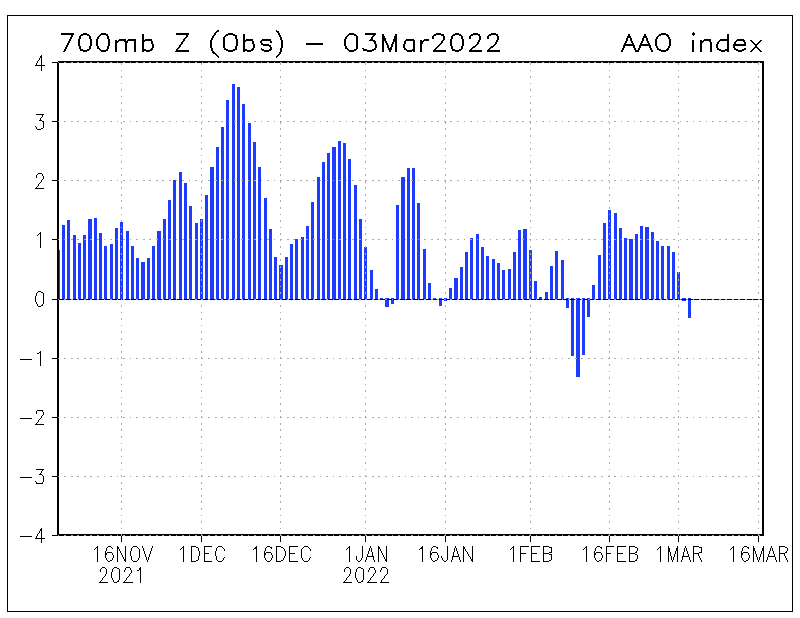 ———————————————————————
'SNOWMI' on a NEW AUSTRALIAN FORUM has constructed a discussion thread titled
"Cold Front Activity Controls and Trends"
'Snowmi' has commenced discussion on the links to the SAM index and cold fronts across Australia
You can follow and join the discussion here
http://www.weather.liway.com/forums/viewtopic.php?f=6&t=4
You may have to register to view the discussion.
http://www.weather.liway.com/forums/index.php
This is a new weather and climate forum based in Australia since July 2013
The forum was developed as a result of the' weatherzone forum' closing its climate debate section which left contributors 'short changed' and bereft.
The owner of the forum ..'GB'..like myself felt a need to replace the hole that was left by the Weatherzone decision.
http://forum.weatherzone.com.au/
I thank 'snowmi' ( a moderator and contributor at the http://www.weather.liway.com forum)for posting the excellent link of the time series data for the SAM
—————————————————————————